Welcome to the first edition of The Dish! Okay, so here's the deal: The Dish is my effort to highlight and pay homage to some of my favorite blogs and websites. Through blog networking, blog hopping, surfing the net, etc., I've seen a lot of blogs in the last couple of weeks. Now, I'm new to this world, and I won't pretend to be an expert on what makes a blog good or bad. But I do have opinions, and I do know what I like and what I don't like. And I like blogs with great writers! The Dish will be an opportunity for me to highlight blogs with excellent content and real heart. I will be posting a new featured blog every Friday in celebration of For The Love of Blogs' Fab Friends Friday.
But enough with the explaining, let's get to the star of this the first edition of The Dish: Belle of the Desert.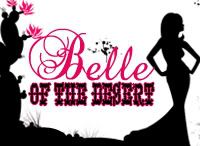 As new as I am to the blogging community, Heather of Belle of the Desert was one of the first bloggers to reach out to me. Her kindness and sheer loveliness transcends the boundaries of the internet and leaps out at you! And her blog displays that kindness and loveliness perfectly.
Delicious Design
The first thing you'll notice about Belle of the Desert is just how dang cute it is. The design is a relatively new one, but it's quickly become one of my favorites just to look at! I especially love the banner, which illustrates the blog's title so perfectly. And speaking of that adorable title, it's derived from Heather's journey from a small town in Georgia to the vast landscapes in Arizona, so needless to say this lady has some perspective. She stays true to her Southern roots, but she's also embraced her new home in Arizona (especially her Yotes).
Another one of favorite things about Belle of the Desert's design are the Marilyn Monroe quotes. My personal favorite: "Imperfection is Beauty, Madness is Genius, and it's better to be absolutely ridiculous than absolutely boring." Something about reading those quotes when I visit this blog makes me smile and feel uplifted.
Appetizing Content
Music for the Morning! Everyday Heather posts a new song or songs, and let me tell you she's got fabulous taste in music. Adele, Coldplay, Pink. You can count on stopping by Belle of the Desert every morning for some uplifting tunes.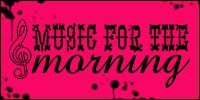 But the great thing about Heather is that in addition to regularly-scheduled things like Music for the Morning, she posts great unscheduled articles about a variety of topics. She doesn't fit into any kind of category, and you never know what might be in store on a visit to Belle of the Desert. Most recently, she's been chronicling her amazing success with her diet, blogisodes about cooking with coconuts, sponsor spotlights, and much more.
Oh, and be sure to check out her adorable, and I mean adorable, Shar-pei. She's got four, and I swear they are some of the cutest dogs I've ever seen. I love when she posts a new picture of one of them...they make me smile!
Scrumptious Survey
: This survey is sent to featured bloggers prior to the unveiling of The Dish.
What's your favorite dish/food?
I can only pick one?!? I love soooo many!
I will admit though that I am a fiend for sweets. I love 'em! Just give me anything with cream cheese frosting and I'm a happy camper! Preferably a good Red Velvet Cake. Yummy!
What's your favorite type of cuisine (Italian, French, etc.)?
Southern!
And boy do I ever miss it out here in the desert. Even the Cracker Barrel restaurants out here don't know how to make grits, chicken 'n dumplings and Lima beans the right way! The red beans and rice are horrible... It's killing me! I haven't even found a good place for BBQ out here yet!
What is unique about the cuisine in your part of the world?
Arizona is a bit of a melting pot - we get a lot of snowbirds coming down to escape the winters. It's kind of like Florida in places - but with no humidity and no beaches. We also get a lot of immigrants here (as I'm sure the rest of the world is well aware...) and then there's the rest of us who still haven't figured out how the heck we ended up out here... You can find some great authentic Mexican food and I've heard some people eat even cacti... But I'll pass. Up in Scottsdale there are so many different and fabulous places to eat - I've been here 5 years and still haven't tried them all! I love the fact that we have a great variety of health food stores here that supply me with organic fresh veggies and grass fed beef.
Sweet or salty?
Sweet for sure!
What food are you craving right now?
Absolutely nothing - about 5 minutes ago I was craving carrot cake... but I took care of that craving!


Do you like to cook? If so, do you ever share recipes on your blog?
I am learning to like to cook. I used to cook quite a bit - but I've gotten away from it recently for some reason. My past cooking attempts were quite unhealthy. I put butter, salt and anything else horribly unhealthy I could find in my recipes. In my attempt to become more healthy I am forcing myself to cook more and to try out healthy recipes. Currently I'm on an organic extra virgin coconut oil kick. Every Tuesday on my blog I do a Cooking With Coconuts Blogisode for Tasty Tuesday. I've found some awesome recipes - and had some epic fails. But it's all about experimentation and learning and it's been a lot of fun so far!
What recipe, if any, would you consider your "specialty"?
I can make a KILLER Pineapple Upside Down Cake!


Where do you get the recipes you use? From cookbooks, blogs, online directories, etc?
I get most of my recipes online from blogs and other various websites. I have recently ordered some actual cookbooks. Which is a first for me!
Please share links to any food blogs you enjoy.
One of my favorite blogs is - can you guess? -
about cake
.
What food-related word would you use to describe your blog? (i.e. salty, sweet, savory, delicious, yummy…) Get creative!
Right now my blog is quite coco-nutty!!! :)
A visit to Belle of the Desert is one you won't regret. Heather's a funny, relatable, and refreshing blogger with great things to say and a cute place to say them.
Author's Note:
As I was writing this, I kept spelling desert as dessert. Apparently, food is ALWAYS on the brain for me. This is something I've almost always done though. I'm hoping that after seeing desert spelled correctly on a regular basis I'll learn my lesson.
Stay tuned for the next installment of The Dish next Friday!