Welcome to the second edition of The Dish, where I serve up some of my favorite bloggers for your reading pleasure. Today's blog is easily one of my favorites, but saying that it's a favorite just doesn't seem to say enough. To be perfectly honest, today's blog is much better than a blog. It's a collection of stories really. Of wonderfully written, perfectly crafted, unique and stirring stories. A visit to this blog rarely leaves you feeling unaffected, whether you laugh with the author, cry, or find yourself shaking your fist at another idiot
Beulah
. Today's featured blog is
Narrangansett No. 7.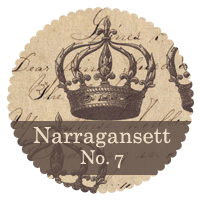 In addition to being an entertaining and fabulous blogger, Kelli at Narragansett No. 7 is a genuinely talented writer. She is pursuing her Master of Fine Arts in Creative Non-Fiction, and when you read her daily posts, you can sense that she goes that extra mile to bring her readers quality stuff. And you can't help but feel as though you are privy to something really special.
Delicious Design
Narragansett No. 7 has a simple, minimalistic design that allows readers to focus on the content of the blog. There are no distracting sidebars with tons of buttons, no slow-loading side pages. It's a blog that's refreshing to visit with no distractions from what you're really there for: her penetrating and moving words.
But that's not to say that Kelli doesn't provide illustrations for her posts. Nearly every story that she shares has proper (and usually uproariously funny) photographs to accompany it. One of my favorite illustrated posts: Crack is Whack! Check it out, but prepare yourself for an eyeful of butt cleavage.
Appetizing Content
Where to start? Since discovering Narragansett No. 7 a few weeks ago, I've had the pleasure of going back and reading some of the blog's past posts. Amazingly, I've discovered that this blog never seems to have an "off" day. The content that is delivered here is consistently great and at a high level of talent.
My favorite series of posts? No. 7's ghost stories! Back in late 2010, Narragansett No. 7 featured a series of posts on a white farmhouse that the blogger lived in for several years as a child and preteen. This house is one that I can now picture perfectly thanks to some haunting tales. I kid you not that I think these stories go into the record books for me as far as scary goes. The night I spent engrossed in the series and covered in chill bumps was a sleepless one.
There's no category that Narragansett No. 7 easily fits into. Although Kelli does write about her children and home-life to a certain extent, I would never describe her blog as a "mommy blog." She is MUCH more than that, and her diverse collection of posts proves that beyond the shadow of a doubt.
Scrumptious Survey: Questions Answered By Blogger
What's your favorite dish/food? What way is the wind blowing? Seriously, I'm slightly schizophrenic with my food tastes. I love trying new things! Having said that, if I had to pick some favorites for my last meal ever, I'd request escargot and a Bellini, followed by some fresh oysters, then a freshly picked, still warm from the sun tomato paired with fresh basil, buffalo mozzarella and drizzled with olive oil, then a taste of the lobster macaroni and cheese with truffles from 555 in Portland, Maine.
What's your favorite type of cuisine (Italian, French, etc.)? French. No, wait.. Italian. No...Spanish. I grew up in a very diverse part of the country, so I was lucky enough to enjoy all sorts of cuisines. My family is a mixture of Irish, German and English. My uncle was Italian (See my post titled, "Fat Pants and Pasta") so growing up, eating was quite an adventure! We definitely aren't those people who eat the same meals every week and processed foods were never an option.
What is unique about the cuisine in your part of the world? The best part about moving to Maine? I can have fresh Maine lobstah whenever I want! We live in Portland, Maine and for a small city, the restaurants here are incredible! A few of our local chefs have been listed among the top 25 chefs in the country. A good portion of our restaurants are truly dedicated to eating "locally" and are committed to building their menus around New England's farmers, cheese makers, breweries and fisherman. Coming from New York, and being surrounded by whatever you want, whenever you want it, I like this pared down way of life. I feel good about eating organically grown, local foods.
Sweet or salty? Salty. Most definitely salty.
What food are you craving right now? Bacon dusted french fries from Nosh Kitchen Bar, Portland, Maine. Have you seen that episode on Man vs. Food? AH-MAZING! Hold on...I just drooled a little.
Do you like to cook? If so, do you ever share recipes on your blog? I love to cook! In fact, for several years I wanted to go to the Culinary Institute of America in Hyde Park, NY and even catered my husband's law school graduation party when I was 7 months pregnant, then a christening party for a friend in my 8th month of pregnancy. I don't share recipes all that often, but occasionally post something new on our "what we're eating" page. Cooking is really another creative outlet for me. I'm addicted to that moment when someone tastes a dish I have prepared and their eyes widen with pleasure. When someone goes back for seconds or requests a specific dish during a visit, I nearly swoon with delight.
Where do you get the recipes you use? From cookbooks, blogs, online directories, etc? Most of my recipes come from cookbooks; one of my favorite for the past few years has been The Gourmet Cookbook by Ruth Reichl. I tend to alter my menus according to the season, so we're still enjoying our winter comfort foods, like cassoulet, turkey chili, homemade pappardelle with blue cheese & leeks and chorizo & clam stew.
What food-related word would you use to describe your blog? (i.e. salty, sweet, savory, delicious, yummy…) Get creative! Scrumdiddilyumpshus. That's not an actual word, is it? 'Complex' might be more appropriate description for my blog.
Do yourself a favor and stop by Narragansett No. 7 as soon as possible. The blog and the blogger both stand out from the crowd with an extraordinary amount of talent. It is the kind of blog you genuinely enjoy reading every word of, but to give you fair warning, you'll quickly become addicted to the laughs and tears of No. 7's stirring words.