This week's feature on The Dish is one of the first blogs I discovered after joining the
For the Love of Blogs
Community...which has been about a month ago now. I'm so grateful I joined this amazing community, because without it, I would have never made such great friends with such great blogs. While linking up for my very first Fab Friends Friday, one of the tiny buttons representing the other linked up blogs immediately caught my eye.
It was such a beautiful image, such a perfect, strikingly gorgeous lady looking back imploringly at me. I couldn't help but click...it was like I was being drawn in by her pink rollers, flowery dress, and truly excellent purse. I couldn't have resisted her if I tried. Just take a look for yourself, at the fabulous button of the truly fabulous
One Mixed Bag.
I can't tell you how glad I am I was tempted by this siren's song. I now visit One Mixed Bag on a daily basis, and I'm never disappointed, and I can promise you won't be either.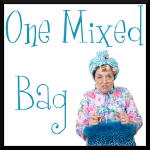 Delicious Design
The design of One Mixed Bag matches its content perfectly: light-hearted and cute. And of course, when you first arrive, the beautiful lady with her beautiful bag is there to greet you. Bernie, the author of One Mixed Bag, has a
love affair with purses
, hence the name of her blog and all the cute purse details on her site. Even her cute little buttons are cute little purses. I love it!
Bernie's another one of those bloggers who doesn't busy-up her blog with lots on unnecessary stuff. She's got a clean, simple layout that lets you focus on her content and doesn't take forever to load. The blue and white colors compliment her banner and buttons well and just look dang pretty. I feel happy when I visit One Mixed Bag, but only part of that is because of her cute design.
Appetizing Content
Bernie's blog title says it all. You never really know what you're going to get with a visit to One Mixed Bag. Well, sometimes you'll know because she's got some regularly scheduled events. Like a hilarious and informative Wordless Wednesday feature with fun (and surprisingly
personal
and revealing!) vintage ads. My favorite so far has been one from
Scott Tissues
, which focuses on the "troubles caused by harsh toilet tissue." Umm...yeah. The vintage ads are always worthy of a good laugh.
One Mixed Bag also features some cute and crafty content, which I always love to admire from afar. Crafting is most definitely
not
my thing. I think I'm too uncoordinated for that. If I can't dance, how can I be expected to work scissors and cut actual paper at the same time? But Bernie makes crafting look fun and easy, especially with her cards. I absolutely adore the
cards
she made for her mom's birthday a couple of weeks ago. Her craftiness is due in part to a goal she set for herself for 2011, and she posts updates every Thursday relaying her progress towards her goal. I'd say she's already made it!
Even better than the awesome regular features on One Mixed Bag are the spontaneous and uncategorized posts. The first entry I read on this blog is probably one of the most memorable blog posts I've ever encountered. It definitely is one of my top three favorite blog posts, if its not number one. If you don't read any of the other posts I recommend to you today, please at least read "
He Went For a Hair Cut and Came Home With a Note
." I kid you not when I say this is probably one of the funniest things I've ever encountered, and this little story serves as a perfect example of Bernie's writing style. She's got the most conversational and friendly voice. As soon as you start reading, you feel included, as if you're one of her oldest and dearest friends, and she's just sharing another one of her quirky and humorous tales.
Oh, and how could I possibly forget Mr. Bernie? Mr. Bernie, who is Ms. Bernie's
devoted
,
loving
hubby and who often co-stars in One Mixed Bag. The posts co-starring Mr. Bernie usually keep me in stitches!
Scrumptious Survey: Questions answered by blog author, links added by me :).
What's your favorite dish/food?
Pizza. I would assume that is everyone' favorite dish. If its not, it should be. My husbands pink and chocolate chip pancakes come in a close second.
What's your favorite type of cuisine (Italian, French, etc.)? Chinese. I love a good Chinese buffet. The array of dishes are amazing. Chicken Lo Mein, rice, Sesame Chicken, Pot Stickers. I could go on, but I'm starting to drool on my keyboard just thinking about those dishes.
What is unique about the cuisine in your part of the world?
In Montana they do quite a bit of Mexican cooking. That surprise me. Montana is not the Hispanic capital of the U.S. They like to use a lot of chili's and spices. I'm from Minnesota and we don't spice our food. Its rare to use salt or pepper!
Sweet or salty?
Both. I enjoy butter salted popcorn with M and M's thrown in for good measure. Don't knock it until you have tired it. Lately, I have been trending towards salty pretzels. I'm sure by the middle of the month my chocoholic side will rear her ugly head.
What food are you craving right now?
Other than pizza, Chinese and chocolate? *lol*
Do you like to cook? If so, do you ever share recipes on your blog?
I do like to cook. My husband Mr.

Bernie

likes to be a "helper bee" when I'm cooking. It makes me nervous. I love to make hot-dishes, (that is a casserole for those of you anywhere else in the world) Wild Rice Hot-dish is my specialty. My folks bring us bags when they come to Montana to visit. I have more creamed soups and wild rice than most folks in Minnesota. I didn't really start cooking until I moved to Montana 7 years ago. I used to live on Ramen, popcorn and Mac and Cheese. Those were my three food groups. I make some mean bars, ones that will make you want to slap someone. (Most bars are like brownies.)
Where do you get the recipes you use? From cookbooks, blogs, online directories, etc?
Cookbooks are my main source. My brother and his wife put together a
cookbook
for my wedding with all of their recipes. A church cookbook from my home church that has recipes from my Great Aunties and Grandma. I read Taste of Home Magazine. A Serbian cookbook is another one of my favorites. I'm famous for printing something off the internet and never being able to find it. My new pride and joy is a cookbook from my husband, "The Essential New York Times Cookbook". It covers recipes from the start of the Times recipe section. It offers suggestions for pairing different eras for meals. It might suggest a 1910 appetizer, a 1940 main course and a 1950 drink recipe. Have a I made anything out of it yet? Nope. Have I read it quite a bit. Yup
.
What food-related word would you use to describe your blog? (i.e. salty, sweet, savory, delicious, yummy…) Get creative!
My blog is salty if I'm feeling feisty. A bit cracked like crackle candy. Bitter if I get on a roll or something makes me mad. Add in a sprinkling of sweet when Mr.

Bernie

is being particularly sweet and adorable. My blog readers add the savory with all their wonderful comments.
Bernie at
One Mixed Bag
is one of those rare people you'll "meet," who has true wit and wisdom. She'll make you laugh guaranteed, and if she doesn't, then you just don't have any kind of sense of humor at all, ha! Seriously, pay Ms. Bernie a visit and treat yourself to some fun and a few (more like a lot of) laughs.