Welcome to this Friday's very late edition of The Dish! This week's Dish is brought to you by Blogger. Thanks for finally rejoining the land of the living, Blogger. Us
bloggers
sure appreciate it!
I'm super excited about today's featured blog(s) and blogger on The Dish as I've only recently discovered them, and this feature has given me the opportunity to really discover and get to know the wonderfulness that is Breann of
Life and Love of a Parrothead
. Breann is one of the newest bloggers on my lists of reads, and I'm so glad that I found her. In addition to hearing a great Jimmy Buffett soundtrack in my head every time I visit her blog, she posts fun and interesting entries, and you never really know what to expect when you drop by. Through Life and Love of a Parrothead, Breann shares stories of her family, particularly of the cute little
Logan
, of her
romantic courtship
with her husband of six years, and, of course, there's the occasional anecdote (okay, maybe there's just the one, but it's hilarious!) of her history with
Livejournal
(remember those days?). And, obviously, much, much more!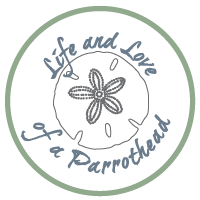 Delicious Design
Remember that Jimmy Buffett soundtrack playing in your head? Are you wasting away again yet? Well, the Parrothead reference isn't the only thing that takes you away to the beach after visiting Life and Love of a Parrothead. Yep, Breann's beautiful blog design reminds me of trips to the ocean almost as much as that lovely blog title does. Her sand dollar logo is absolutely adorable (as you can see from above). And once again the blog featured on The Dish is one with a clean and simple design that compliments the actual content perfectly. Go see now! You'll love it.
Oh, and one of the cutest and most unique things about Breann's design is her "Cast of Characters" in the right column. It helps to put faces to the names she mentions on her blog frequently. Plus, having her cute little boy and pets staring back at you every time you visit just puts a huge smile on your face.
Sticks to Your Ribs
One of the best things about Breann? She brings readers TWO great blogs for the price of one!
Sticks to Your Ribs
is Breann's food-centered blog, where she shares some of the yummiest looking recipes imaginable. Even a quick visit will have your mouth watering, guaranteed!
When did I know I was in love? When I saw a
Chicken Salad
recipe featured on Sticks to Your Ribs that looked delicious to me...and I happen to hate chicken salad. Anyone who can write about and take pictures of a food that I don't particularly like and make me wanna try it is a total winner in my book! Plus, Breann is excellent about taking great pictures of each step of the recipes she tries. Sure, as a writer, I love to read recipes, but something about just reading recipes without visual aids doesn't do much for me. Sticks to Your Ribs has it all! It's just the kind of food blog I love with recipes and fun anecdotes mixed throughout.
Scrumptious Survey:
Questions answered by blogger.
What's your favorite

dish

/food?
I have always loved classic Spaghetti with meat sauce. Over the years it has migrated a bit to meatballs instead, but now and then I will make a rich bolognese sauce and I am always happy I did. When I was pregnant, I would eat any form of spaghetti I could get my hands on!
What's your favorite type of cuisine (Italian, French, etc.)?
Even after all that talk of spaghetti, I could still eat Tex-Mex 3 meals a day. Huevos Rancheros for breakfast followed by Enchiladas for lunch and Fajitas for dinner? YES PLEASE! Living in Houston gives me access to wonderful Mexican food so I have ended up with my go to places for certain dishes.
What is unique about

the

cuisine in your part of

the

world?
Houston is awesome because you not only have access to classic Southern food, but to every type of food from all around the world. Authentic Chinese food (not that buffet mess!), Indian, Lebonese, Korean... Name it and we can hop in the car and go eat it. Seriously, come visit and I can take you to eat anything from the best Chicken Fried Steak to Vietnamese food that will knock your socks off.
Sweet or salty?
Sweet. Always. Usually in the form of a chocolate chip cookie.
What food are you craving right now?
Huevos Rancheros as a matter of fact! HA!
Do you like to cook? If so, do you ever share recipes on your blog?
I love to cook. Before I had Logan, I would delve into very complicated recipes on the weekends like Julia's Bouef Bourginon. But now that's a little more difficult. I cook at least 5 days a week, usually simple meals like stir fry or a cassarole. If I do something bigger it's always on a Saturday or Sunday night so that I have the time and Lee can watch the baby. I have a food blog that is linked under "Recipes" on my main blog. I generally don't make my own recipes, other than throwing things together sometimes. But I love to cook other's and give them credit.
Where do you get

the

recipes you use? From cookbooks, blogs, online directories, etc?
All of the above. Although Lee did ask me once if everything we ate was Pioneer Woman! Food Network is my go-to when I search for a recipe. I even try recipe's from other blogs all the time.
What food-related word would you use to describe your blog? (i.e. salty, sweet, savory, delicious, yummy…) Get creative!
Appetizing - or at least I hope everyone thinks so!
Trust me on this: Both of Breann's blogs are VERY appetizing, and I hope you'll take a hint and go over and visit already. You're missing out! Hope you enjoyed this edition of the Dish. I've got to be going now...I'm getting ready to waste away in Margaritaville. If only I could find that lost shaker of salt....